Borderlands 3 is coming to Next Gen Consoles. Whilst this is not new news for everybody it has now been confirmed that we will be seeing the epic shooter looter return on day one for both consoles, with free upgrades for those who already own the title on the current gen consoles. Borderlands 3 on Xbox Series X and PlayStation 5 will feature 4K resolution at 60 FPS for single player mode and online Co-op.

The upgrade to Next Gen will also see the return of Borderlands Couch co-op modes, allowing up to 4 players to enjoy the mayhem in split screen! Unfortunately, if you own Borderlands 3 on disk then you will need your Next Gen console to have a disk drive to obtain this free upgrade. However, your DLC and save files can be transferred across, meaning you can jump straight into the action where you left off.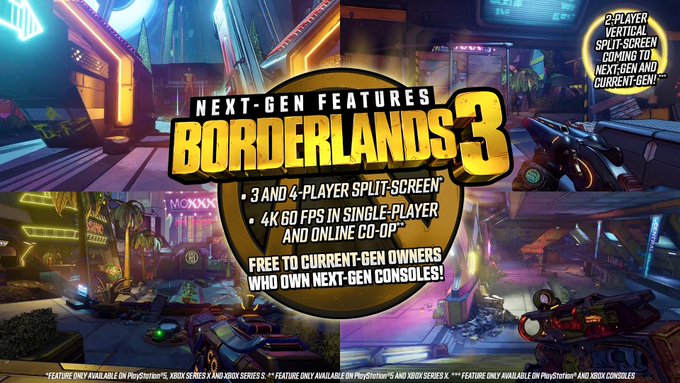 The Team at Gearbox have also stated that on October 29th at 5 pm BST there will be an incredibly special episode of the Borderlands show, where we will be receiving more exciting news from the Borderlands team.

You can watch this stream on the Borderlands Twitch Channel, or you can check back with us here at 3Bit soon after the stream to catch the highlights from the episode. If you want to see this news first then be sure to check out our social media pages below, where we will continue to bring you all the latest from across the gaming community.

Support 3-Bit - It takes 2 Minutes:
Its the people who support us who enable us to keep 3-Bit alive. If you've enjoyed the content from this article and want to see more, please support us by following us on social media. The banner here will allow you to get directly to our pages without closing this page! Thank you
​
- The 3-Bit Team