Last month we saw the incredible Gone Viral go into Early Access. The brutal Rouge-Lite Indie game from Skullbot Games sees us smashing through savage mutants and warbots in incredible hack and slash pinball combat. Today Skullbot Games and their Publisher Akupara Games released the Road Map for Early access and what fans will be seeing in future updates of this awesome hack and slash Bloodsport. The first part of the road map is an all-new character to build up our fan base with, This will be the 3rd character available for Gone Viral, and we look forward to seeing how they will rouse our bloodthirsty fans both in the game and on Twitch. The new character looks like it will use a rather brutal looking Warhammer which will make us the arenas ultimate pinball wizard.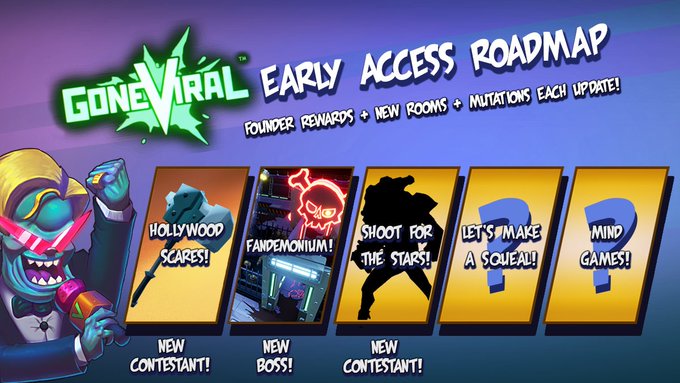 Next up we will see an all-new boss added to the world of Gone Viral, if you have caught any of our streams then you will know that these bosses are not like normal boss stages. The bosses of Gone Viral have multiple ways of appearing to us in the game, sometimes just as vanilla bosses and sometimes as a more extreme version surrounded by elite enemies such as tanks. The addition of a new boss is sure to bring a whole new level of challenge to fans of the game and us here at 3Bit as we continue to try to beat the champion. As Gone Viral continues to update, we will see a fourth character introduced who has the words shoot for the stars over their silhouette. The Early Access road map also features two more major additions. However, we will have to wait and see what Developers Jeramy Gaffney and Doug Koup have in store for us. We will also be seeing new rooms added to the arena, meaning we may see new traps added to the already brutal arenas, and with each update, we will also see new mutations to help us smash through to the top and earn our freedom.
We here at 3Bit have been huge fans of Gone Viral since playing the Beta many months ago. We thought many different and colourful enemies throughout the procedurally generated arenas. We smashed warbots into mutants, bouncing them off each other and into traps. Gone Viral also features incredible twitch Integration, which led to some hilarious streams where viewers voted for whether our streamers were either gifted with armour health and upgrades, or tortured throughout their gameplay with Nukes, bombs and invisible foes. Are you as excited for the future updates to Gone Viral? Let us know on our social media channels which you can find below. If you want to see more from Gone Viral, then be sure to keep an eye on our stream schedule here on 3-Bit.co.uk as we will bring more Gone Viral to our channels in the near future.
Support 3-Bit - It takes 2 Minutes:
Its the people who support us who enable us to keep 3-Bit alive. If you've enjoyed the content from this article and want to see more, please support us by following us on social media. The banner here will allow you to get directly to our pages without closing this page! Thank you
​
- The 3-Bit Team
More News and Latest Highlights