Another amazing week has flown by here at 3Bit, and it has been filled with incredible updates for games, with incredible road maps, shocking additions and new releases. With so much happening it can be easy to miss all of this news, so if you have missed any of this fantastic news then be sure to check the headlines below. • A new patch for The Outer Worlds released on the Nintendo Switch bringing it to a "playable state." You can check out all of the details here on 3-Bit.co.uk. • NBA 2K21 adds an unskippable advert to its loading screen. After a colossal uproar from the community 2K released a Statement promising to fix it. • Halo The Master Chief collection will get the Next-Gen Treatment for Xbox Series X/S. • DOOM Eternal The Ancient Gods Part 1 releases. You can check out what to expect from the first story expansion to DOOM Eternal here in our news section.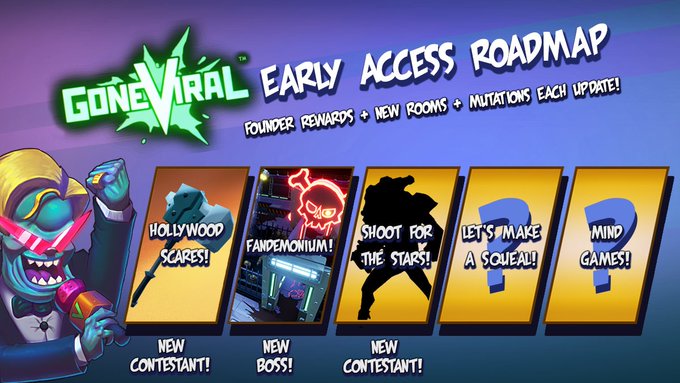 • Rumours are pointing towards Bugsnax being a PSPlus game. We have all of the details surrounding the rumour here at 3Bit. • Gone Viral the amazing Indie title from SkullBot Games releases its Early Access Roadmap which you can check out below. • Ubisoft released the road map for Assassins Creed Valhalla's year one content which includes Celts Siege's and a Holiday festival worthy of Vikings. You can find out more about the road map here on 3Bit. • The result of our Next-Gen Console choice is out. You can find out which console is the most popular choice here in our news section. • Limited Run has announced a physical edition of the Monkey Island Anthology which includes an array of physical collectables. • More ex Blizzard employees have formed another gaming studio. Frost Giant announced itself on Tuesday with an eye on the next best RTS game. • An array of Spider suits and introductory details have been released for Spider-Man Miles Morales.
• Publishers Devolver Digital and Developers Croteamhave "got married" The Serious Sam Developers were acquired by the hit indie publishers this week after years of publishing for the team. • Kojima Productions has confirmed it is working on a new project. We here at 3Bit look forward to seeing the internet light up with theories as Hideo Kojima begins to release clues slowly. • We got our first look at Tom Holland as Nathan Drake in the Uncharted Movie. Which you can check out below. • Seriko Shadows Die Twice will receive a free update with new challenges, cosmetics and a new boss. The update will release on October 28th. And with that, you are caught up for this weeks gaming news. Be sure to stay with us here at 3Bit as we continue to bring you more fantastic gaming news from across the gaming community. If you want to see more from us here at 3Bit, then be sure to check out our social media pages which you can find and follow below.
Support 3-Bit - It takes 2 Minutes:
Its the people who support us who enable us to keep 3-Bit alive. If you've enjoyed the content from this article and want to see more, please support us by following us on social media. The banner here will allow you to get directly to our pages without closing this page! Thank you
​
- The 3-Bit Team
More News and Latest Highlights